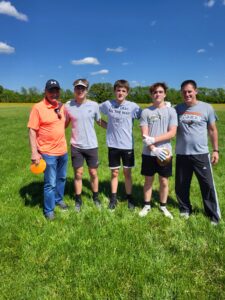 Another young Star is coming on the scene soon, so remember this name, Kaden Hines. A Freshman this fall with an already powerful delivery and accuracy to go along with it. Kaden has been working out with Coach Sink for a few months and is really starting to blossom as one of those rare QBS with the ability to take them helm of a varsity program as a freshman starter. Kaden is a solid 6'1″ (and maybe a little more) and 175 lbs. looks like he will have plenty of size for what he needs to play this incredible game for a long time. Kaden loves to work, is a great student, and has leadership qualities to be an elite signal caller at about any level. The ball he throws is a normal "Sink Coached" tight spiral with plenty of rotations per second that comes off his shoulder with speed and velocity that is usual saved for the top seniors in the region.
The one guy I must mention is Kaden's Uncle Dusty Hines, who started working with him at an early age and did an outstanding job of getting his basics down, so any time Dusty wants to start another one, Sink will be interested in working him too. He is pictured above on the far right.
The other two guys in this picture along with Kaden Hines, are 2 young receivers that are going to be very productive to a good high school football program. They are Tommy Stai and Boston Fowler who both showed off with some outstanding catches during the session. As you can see in the photo, we are not working out on some million-dollar turf, but on a need to be mowed park where Coach Sink has been many times before, creating a football field with cones and gone to work. Humble beginnings often bring great successes.
Mark this name down now, you will be seeing it again and often, Kaden Hines Freshman QB. Pictured above is L to R Coach Sink, Kaden Hines, Boston Fowler, Tommy Stai and Dusty Hines.