Ron Roesink, "Coach Sink" brings 20+ years of football coaching to the training on this site. During his 18 years of head coaching he had an excellent winning percentage and has developed 80+ Division I College football players thus far. You will see live and first hand, players developing their skills. Coach Sink will show you the right way, with techniques that are used by the elite players at their positions. You will see and obtain the skills that many major college and pro-teams use to get sharp and stay on the cutting edge.
Coach Sink, as you will see if you visit this site often, is a motivator with positive, powerful reinforcement of excellence and constructive criticism that does not eliminate the players enthusiasm for the game. He instills a love for an incredible work ethic that his players envelope as they see how it makes them the best they can be! We believe that all of you will experience the personal power of Coach Sink's philosophy of developing the greatness in each student so that they become great men! Great men become great only by fulfilling their mental, spiritual and physical well being and Coach Sink is adamant about his players being taught to be leaders for all the right reasons. Join and you will see what we mean.
Coach is currently working almost 200 Quarterbacks and Wide Receivers and Tight Ends from Freshman to Seniors in High School to Jr. College and College students to develop them as productive College and Pro players. Just a short list of schools where Coach Sink students are playing or are committed to play are Baldwin and Wallace, Penn State, Robert Morris, Northern Illinois, Indiana, Marshall, Miami of Ohio, Kent State, Illinois, Akron, Ohio State, and Michigan State. You can schedule a personal work out with Coach Sink by visiting the contact page and he will arrange for a 2 hour assessment of your talent and potential. We know each player will be excited about the outcome of the football knowledge they will obtain during any Coach Sink session. Feel free to browse through this site and watch training and performance videos by many top QBs and WRs that Coach has trained.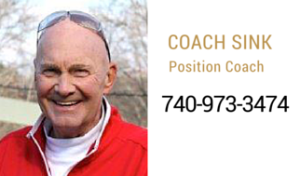 Here are a few testimonials:
Coach Dick Hartzell
President of Flex Performance
3 time Ohio HS Football Coach of the Year
Won 3 State Championships at 3 Different Schools
I would like to take this opportunity to recommend Coach Ron Roesink as an outstanding quarterback coach.

Over the years, I have had success coaching quarterbacks. In 1966, I coached Ed Casey who went on to break all the passing records at Baldwin Wallace. While at West Branch in the 1970's, I worked with Mark Rohaley, John Common, and Scott Wolf. They all earned college scholarships. Scott Wolf even went on to play for the Dallas Cowboys.

Through all of my experience, I have never seen anyone that even comes close to Ron Roesink when it comes to developing quarterbacks. I highly recommend anyone who has a son who has aspirations as a QB to spend as much time with Ron as possible. I also recommend for aspiring QB coaches to spend extra time learning from Ron. He is the best quarterback coach I have met in my career.
Coach Shawn Watson
Offensive Coordinator and Quarterback Coach
University of Louisville
I can not say "thank you" enough. Â I appreciate your hard and expertise at the "QB Academy". Â  You were awesome!!! Â We all enjoyed you. Â You are a great man and good for our profession. Â Thanks for everything.
Rye D'Orazio
Director of Fellowship of Christian Atheletes for Central Ohio
I would recommend Coach Roesink to work with any Quarterbacks or Receivers that I am involved with. I completely trust Coach Sink as he has the athletes best interest at heart. Coach Sink cares first about the person and this enables him to get the most out of the athletes he works with. His knowledge about QBs and Receivers is extensive and he has the ability to communicate so athletes can understand it, value it and act on it. Coach Sink's passion and unique way of coaching allows athletes to transfer what they learn over to game performance.
Coach Randy Baughman
Licking Valley Head Football Coach
Newark, Ohio
Ron Roesink ,in one year, improved our QB from a 900 yard Junior year to a 2400 Senior year which enabled us to win our League Championship and have a Playoff birth.  Ron retooled his throwing mechanics and his completion percentage rate  went from 45% to 60%.  His improved throwing motion gave him greater velocity and his pocket awareness allowed him to avoid the sack which all added to a confidence that went through the roof. The best part was the relationship Ron fostered with our QB because he demanded perfection but he let our QB know how much he cared about him which created a trust between Coach and Player.