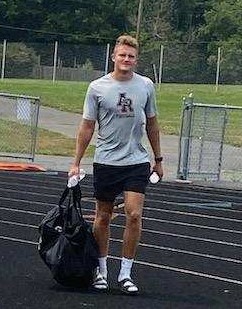 My Sophomore QB at Edinboro U. in Edinboro, Pa. is playing lights out and showing even though he has had a tough year from the wins and losses standpoint that he is a great potential to play on Sunday. His name is Matt Carlisle and you might want to make a mental note of the name as this is not the last you will hear from this very talented QB. Trust me, and God willing if you keep watching, his career is going make a right turn soon and as you can see from these clips below from the Edinboro film room.
You will watch him throw a 53 yard flee flicker (good call by the coaching staff) in his game Saturday that was well done by the entire of the Fighting Scots offense. If you watch close Matt closes one step and fires the ball with ease and drops in the WRS lap for a huge gain. If you like to get very technical, watch the quick feet he has for his 6'4″ 225 lbs. frame and then watch the speed of his arm deliver the "2" ball with ease that far down field.
The second clip you will watch him throw a 58 yard TD under pressure and he will show you his awesome quick feet moving in the pocket to avoid the pressure and again delivering a ball 50+ yards down field with just one close and that fabulous speed release he has to send the ball that distance.
Matt Carlisle can stand in the pocket with his feet spread for a perfect base, move in the pocket, run with great speed and agility, and compete like crazy. Reminds me a lot of that guy from Buffalo, Josh Allen.
Enjoy these clips and thanks to Edinboro for the awesome video.