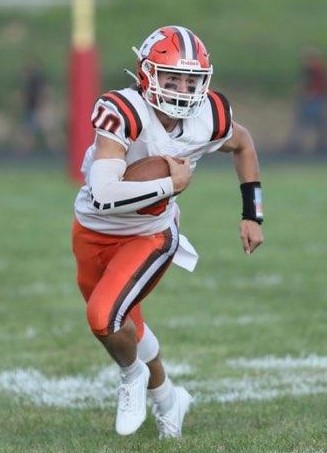 This does not surprise me because that is how Brayden Bayles my 6'1″ Senior QB from Heath HS in Heath Ohio plays the game of Football. He has been a four-year starter and even from the very start Brayden has been dominating games on the offensive side of the ball his whole career. The show down Friday night was for 2 undefeated teams, both 4-0 to meet for the conference championship and they did. The Johnstown Johnnies and the Heath Bulldogs met at Heath Field, but the Bulldogs were growling from the very start. Brayden had a 65-yard scamper and showed off his 4.5 in the 40 speed for his first scamper and that set the tone for the evening.
It is a team game and Brayden for four years has been the ultimate team player for Tim Ward's team. But when Coach, needed that player that would win games for him he didn't have to ask twice, it was Brayden Bayles. No different Friday night! The Johnnies were sent home with a 54 to 21 loss and the Heath guys were Conference Champs.
Bayles passed for 119 yards and 2 TDS, one to each of his outstanding receivers, Connor Toomey who had 4 catches for 45 yards and one to Daylen McIntire, who had 22 yards on 2 catches. For anyone else that would be a good night, but not Bayles. He then rushed for 183 yards out of Heath's total 215 and ran for 4 TDS. A total of 6 TDS for the night out of 54 points scored by the Bulldogs. Coach Ward's defense was clicking too as they turned the Johnnies over 3 times with 2 interceptions and one fumble recovery.
I am really proud of this young man, and he is the real deal, and wherever he goes on to play, that school will find out this kid does nothing but Win Games. Brayden Bayles has been an outstanding student of the game of football and a dream to coach for 5 years and has a very bright future.