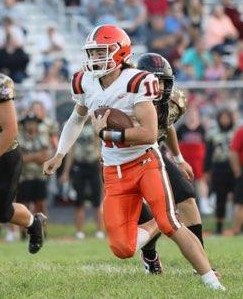 The ups and downs of a football game never seem to bother my Super Senior QB at Heath HS in Heath, Ohio, Brayden Bayles. It is a trait that certainly not every QB has but Bayles has had time and time again come from behind wins for his team and during a normal game remains in the flow and is always ready to put the offense in high gear.
Well this past week was just another high gear situation, the whole game. Tim Ward's Bulldogs were growling the first Quarter jumping out to a 21 to 7 lead and basically dominating the offensive side of the ball the whole night on. Brayden put up some awesome numbers going 16 for 28 and 205 yards passing and 2 TDs. Then he rushed for 105 yards and 3 more TDS but did that with only 13 carries for an over 8 yard per carry avg. Connor Toomey had a great night at the other end of those passing yards grabbing 7 receptions for 80 yards and 1 TD. Running back Connor Corbett rushed 26 times for 242 yards and 2 TDS
The final score was 56 to 21 and puts Heath (4-0 and 7-2 overall) tied for the conference lead in a showdown Friday at Johnstown HS in Johnstown Ohio. After that comes the real test THE PLAY OFFS.
Brayden now has 34 TDS for his Senior year and what a year it has been so far and he will finish strong as he always does. Brayden Bayles what a dual threat.