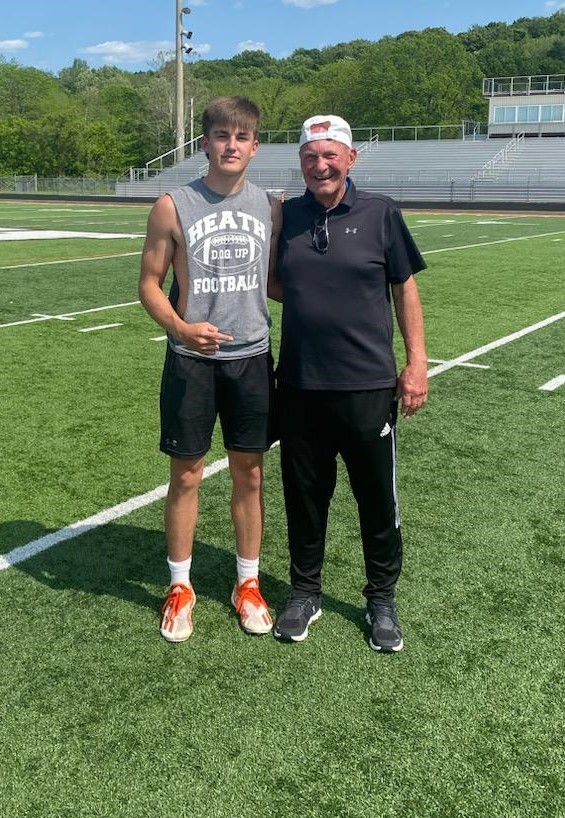 Brayden Bayles keeps mounting up the records and they are all positive for the Heath Bulldogs of Heath Ohio. This past week is no different, as he scored passing the ball with an 80% completion rate of 8 out of 10 attempts for 130 yards and 3 TDS. Brayden had 4 rushing attempts for 71 yards and 2 more TDS for a rushing average of 17.7 yards per carry. I would doubt if any QB in the state wouldn't trade his stats for these. I believe that gives Brayden Bayles a total of 34 TDS for this season, so far.
The 2 WRS were Connor Toomey and Daylin McIntire that did most of the damage with the receiving end of Bayles' passes. Toomey catching 2 of the TD passes and McIntire the other and the 2 guys put up 87 of the 130 throwing yards for Bayles.
Only 23 plays were run by Tim Ward's Bulldogs, as the entire second half they had a running clock so you can see Bayles and Company took care of business early and quick in this game over an outmanned Northridge team, winning 55 to 0.
Brayden makes outstanding decisions as a QB and has tremendous speed and quickness and has the structure 6'1″ 187 lbs. to be a major D1 performer in the next 4 years. We are anxious to see where the future takes him but the sky is the limit for Brayden so just keep winning.