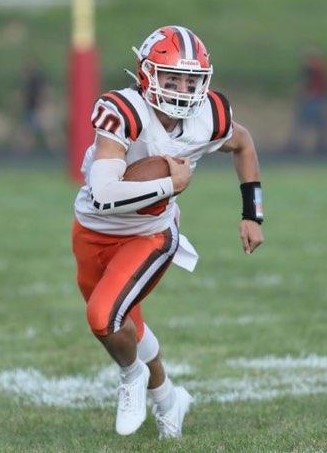 Brayden Bayles my senior QB from Heath HS in Heath Ohio wins another this past week and Friday they face Northridge HS. Heath in a game with the much-improved Utica HS jumped out ahead and never looked back winning 21 to 14. Bayles always the catalyst to victory threw for 125 yards going15 of 19 and carried the ball 19 times for 85 yards and a TD. That brings Brayden's passing yards for the year to 1448 yards and 24 TDS.
Connor Toomey his senior WR was on the receiving end for 59 yards and Connor Corbett put up some good yardage running the ball. This allowed the Bulldogs to go 5 and 2 for the year and be in the driver's seat in the league.
Brayden has really grown up this year to be an outstanding leader for Tim Ward's team and just may be able to propel them into the play offs soon.