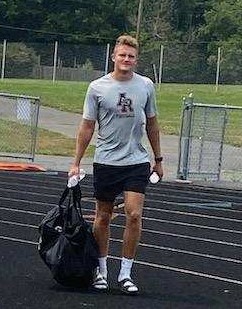 Matt Carlisle 6'4″ 225 lbs. Super Star is an athlete on a mission. His mission is to be a starting QB in the NFL, and as he keeps focus, he gets closer and closer to his dream. You can see from this photo above, he certainly looks the part and if you see him perform, he assures you has all the tools for the job. He is shown here at his last workout before returning to college to play for Edinboro U of Pa. If he has the players around him, it will not surprise me if he won a National Championship there on his way.
Matt has speed to run the ball even at his size, and is hard to bring down so, even though he is a pro-typical drop back passer with an arm that has power to throw the money ball at the combine, he becomes a constant dual threat. For those of you who do not know what the money ball is, the QB must drop 5 yards from the 20-yard line at the opposite hash mark on the field and throw a 1 ball (ball thrown flat with 0 trajectory) to the 40-yard line on the far side of the field and the receiver catch the ball going out of bounds with hands held completely out of bounds. Matt Carlisle not only does this with ease, but his ball actually rises slightly before the catch. Never dropping or losing power at the end of the throw. Matt will also entertain you, for those who like to rate QBS on how far they can throw it, with his easy 50 to 60-yard ball and he finished one session last week with a 72-yarder on the money.
I am very proud of the work ethic and God given ability that this young man has, and he does it humbly, as the great ones do, as he gives back to younger athletes all the time. Super Kid, Super Man. Matt Carlisle
For those of you who live in the Western Pa or Eastern Ohio or even Western NY area and would like to watch a true Pro QB in action before he makes to the league, get a ticket to see Edinboro U. this fall. It will be worth way more than the price of admission. Trust me!!