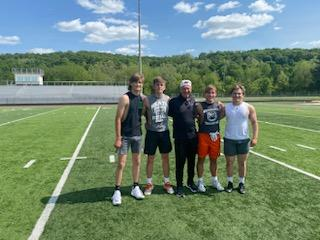 When you want to open the season with a "BANG" you might want my Senior QB Brayden Bayles 6'1″ 190 LBS. (second from left above) from Heath HS in Heath, Ohio to do it for you. Bayles and Company won 48 to 0 over Liberty Union HS and hung up the first win of many this year for HC Tim Ward's Bulldogs.
Brayden went 16 of 21 passing for 318 yards and 3 TDS and as usual the speedster (4.5 in the 40) rushed 7 times for 73 yards and another TD as well.
His supporting cast was very good even though, they were without their services of the excellent slot receiver Grayson Shumate who sadly blew out his knee just before the start of the season. He is pictured above with his work out buddies second from right. Kevin Dunlap on the left in the above photo, his 6'3″ WR caught one of those TD passes on a 25 yarder and so did his outstanding running back Conner Toomey catch a TD pass (on the right above). The other was caught by WR Daylen McIntyre on a 48- yard touchdown. All of these guys are regulars at Sink sessions at Heath.
The defense did their job well blanking Liberty Union so all in all the Bulldogs dominated the game.
This week Heath takes on the always well prepared by coach Randy Baughman, Licking Valley HS from Newark, Ohio in what should be an awesome game at 7 pm in Heath.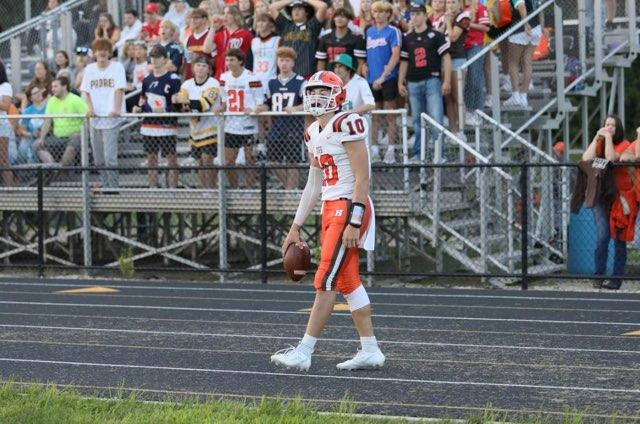 Brayden Bayles QB Heath