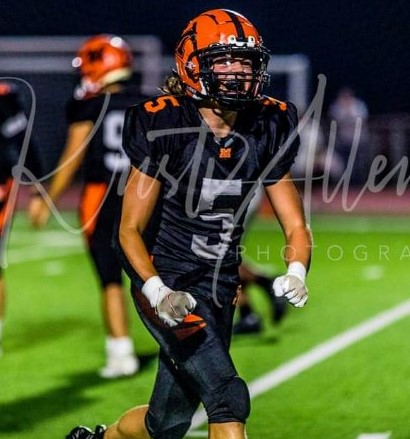 The Yellowjackets of Mt. Vernon HS had not been one of the best teams in their league lately but with guys like Sophomore Mason Richards and Senior Jonny Askew the Yellowjackets are not going to be an easy out for anyone. Mount Vernon put up 31 points in the second half and held the Presidents of Marion Harding to 6 to make the final score of 45 to 20. Askew had 3 TDS and Richards 2 but Mason played QB, WR and DB and made huge plays at all three positions.
Starting at QB Richards threw a 66-yard post pattern that ended just short of the goal line then he turned WR in the second quarter and caught a 35-yard TD from back up QB Jake Taylor. Mt Vernon's 2nd year Head Coach Jay Campbell said, "In my 12 years of coaching I have never had a sophomore voted to be a team Captain", but it shows what the team thinks of Mason Richards and of his ability to lead as a great athlete.
Mason wasn't done yet, at the DB position, late in the game, the Presidents were just about to score a TD when Richards came out of nowhere to scope up a fumble on the 3-yard line and kicked in gear with his 100-meter speed and that was that!! 97 yards later he was in the end zone for the final TD but set the all-time record for the longest TD in Mt. Vernon HS history. Richards said," It's amazing, I am very blessed", and I say to that, "so am I" to have such a great young man that works so hard at every session we have. So proud of this guy, and no matter which position he is playing, I have a feeling you are going to watch a great young athlete perform and Jay Campbell's Mt. Vernon yellowjackets are going to be a team to recon with for at least the next 3 years. Go jackets and go Mason Richards
Mt. Vernon plays Friday at 7 pm at White Field in Newark Ohio against Newark HS. Come see these guys, you will enjoy it.