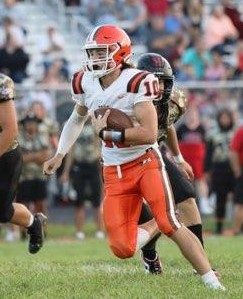 Brayden Bayles my outstanding Senior QB at Heath HS in Heath Ohio seems to be on another road to write some more records for his football accomplishments as he is only 2 games into the season and has already amassed some totals that few have accomplished. Just Friday night alone he was 9 for 19 passing against a pretty tough team from Licking Valley (a perennial champion in their league and always well coached) for 179 yards and 2 TDS and rushed 12 times for 70 yards and 2 more TDS. Brayden lead his team to a 46 to17 victory over the panthers.
I must say Brayden got some good help from Connor Corbett RB who ran the ball very well most of the night too. Bayles now already has 497 yards passing on 25 of 40 attempts and has 5 TDS throwing the ball, plus 143 yards on the ground and 3 TDS. Daylen McIntyre and Connor Toomey both caught TD passes from Bayles as HC Tim Ward had his defense playing well and his OC had the Bulldogs firing on all cylinders. Licking Valley is always a tough out for anyone in Heath's league so big win number 2 for the boys from Heath.
So very proud of my QB Brayden Bayles who is already the leading passer and TD getter in the school's history, so he continues to write new records every week. Next week is Norway, another excellent team, so come and see the Bulldogs at home, they will entertain you.