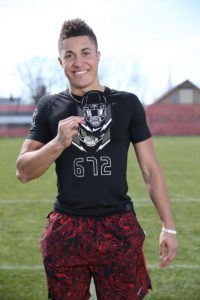 My outstanding young WR from Westerville Central, in Westerville, Ohio, did it again.   After setting a shuttle record last month at the Best of the Midwest camp of 3.88  Cameron Phillips who plays both sides of the ball for John Magistro'  Warhawks, went to the Nike Elite 11 combine in Cleveland at the Brown's facility in Berea and ran another record shuttle of 3.95.   They made him run it 3 times to prove his numbers.
Then he didn't slow down at all, he burned the DB's with his getting off of press coverage and ended up the number one receiver in the entire combine and was presented with the Wide Receiver MVP. I am so proud of the way Cam has committed to be excellent and it sure is proving how hard work pays off.
Congratulations Cam Phillips.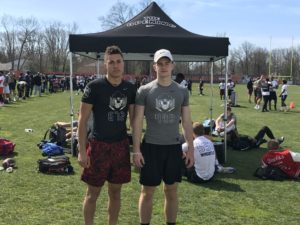 Along with Cam went his signal calling team mate Isaiah Healy, who made the entire coaching staff at the combine  repeat "GREAT throw Healy"  about 100 times during the Elite 11.   Isaiah was on fire all day long and had a sensational camp as well.   We are looking forward to a fabulous season for all of Coach Magistro' upcoming team and with the addition of Ashton Gilkey WR who moved from Newark to Westerville and will be on the opposite side from Cam , it will make for an interesting year for everyone else's DB's.
.