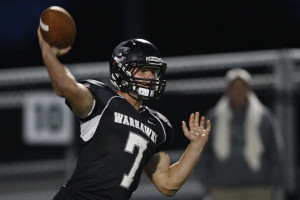 Jared Drake named 1st Team Quarterback and Team Captain of ThisWeek's Super 25 football team.
Frank DiRenna of ThisWeekSports.com wrote a great article on Jared:
When Jared Drake transferred to Westerville Central High School from Upper Arlington before his junior year, he hoped to be given a chance to play quarterback for the Warhawks.

He not only got that opportunity, he made the most of it, becoming the most prolific quarterback in program history.

Last year in his first season as a starting quarterback, Drake completed 95 of 198 passes for 1,308 yards with 16 touchdowns and five interceptions and ran for 951 yards and 12 touchdowns on 144 carries.

The 6-foot-1, 210-pound senior has been even better this season, leading the Warhawks to a 9-1 regular-season record, the OCC-Cardinal Division title and a Division I, Region 1 playoff berth.

Drake had completed 158 of 236 passes for 2,637 yards with 28 touchdowns and six interceptions and rushed for 711 yards and nine touchdowns on 122 carries through 11 games. He was named league Player of the Year and district Offensive Player of the Year.

Drake, who played running back and linebacker in 2011 as a sophomore at UA, was the only underclassmen to make ThisWeek's Super 25 a year ago and has been named captain this year.

"I couldn't be happier," Drake said of his transfer to Central. "But at the same time, it was tough to just move away from everything that I grew up with and leave where my roots were and go try to chase a dream down somewhere else."

Drake helped lead the Warhawks to their first playoff victory Nov. 9 when he completed 10 of 17 passes for 183 yards and two touchdowns in a 55-7 win over visiting Solon. Central lost to Austintown Fitch 40-24 in the second round Nov. 16.

"What you see from Jared Drake on the field, he's that kind of a person off the field," coach John Magistro said. "He's just a super young man. You can go anywhere and you're not going to find anybody that can outwork him. He just can't be outworked. … Whatever it takes, he'll do it."

According to Magistro, Drake has received interest from several Division I schools but has yet to make a commitment.
Link to article: ThisWeekSports