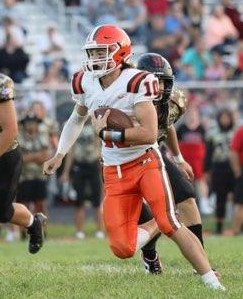 I cannot tell you how hard this young man has worked to become the best in the State of Ohio in my evaluation for sure in his division. QB Brayden Bayles 6'1″ 185 LBS of lighting in a bottle from Heath HS in Heath Ohio, runs a 4.5 40 and throws point to point rockets and has Tim Wards Bulldogs on top the heap in their conference.
Friday night he visited a greatly improved Lakewood Lancer team and set the Woods on fire with an incredible performance. Bayles ended up with 216 yards passing with 17/21 completions and 3 TDS, now that would have been a good night for most QBS in the State, but not Bayles. He also ran the ball for 13 carries and 2 more TDS, giving him a total of 259 yards of offense and 5 TDS. Helping HC Ward to get his Bulldogs to a 4 and 2 record and the 2 losses were from High Schools larger than Heath.
Bayles spreads the wealth, which every great QB does, so here are the guys that helped him win 48 to 7. Let's start with a very talented Freshman, WR Tyler Marks who had a special night making 5 receptions for 83 yards including a 44 yarder and 1 TD. Senior, Connor Toomey had a good night with 4 catches for 51 yards, RB Connor Corbett, who is Heath's leading rusher had 3 receptions for 28 and a 22yard TD. The always dependable Daylen McIntire had 1 catch for 24 yards and a TD, Jr. Josh Jones was 3 for 19 yards, and Kevin Dunlap made a catch for 11 yards.
Only 6 games into the season and Brayden already has 1323 yards passing and 14 TDS and he has rushed for 423 yards and has 9 rushing TDS. That means he put up 1746 yards of total offense and 23 TDS so far this year. He is going to be an outstanding college QB for someone if he so chooses. So proud of this young man as he deserves every bit of the success he has already achieved. Way to go Brayden Bayles.