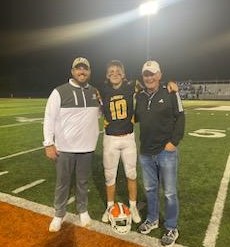 Tim Ward head coach at Heath HS racked up another win this year riding the arm and legs of his outstanding Senior QB Brayden Bayles. Heath jumped out to a quick lead on this night where Heath was honoring our National Guard but found themselves in a battle with Zanesville HS from Zanesville, Ohio. Zanesville is a young but pretty talented team, so they showed signs of being a difficult competitor for the Heath Bulldogs, however that was before Brayden decided to put the game away.
He has that ability and has been able to make some Big Ws for Heath throughout his career for Coach Ward. I have seen Bayles come back from up to 27-point deficits quite a few times and make those games big memories for the Bulldog fans. It is also easy to see why he is the all-time leading passer in Heath HS history.
Brayden went 12/31 passing for 198 yards and 2 TDS with his good running back Connor Corbet catching one of those and when we really needed a fourth quarter TD, Bayles threw a laser strike for about 36 yards into the end zone to WR Dylan McIntyre, who made the catch. If you have ever watched Bayles play, you would know how important another 98 yards of rushing can be, plus Friday, he added 2 more rushing TDS. Total yardage accounted for in the game for Brayden was 298 yards of offense and 4 TDS.
Photo at the top of the page left to right Heath HC Tim Ward, Brayden Bayles and Coach Sink and the photo above pictures Brayden Bayles telling Coach Sink just how he did it. And, by the way, he was right.