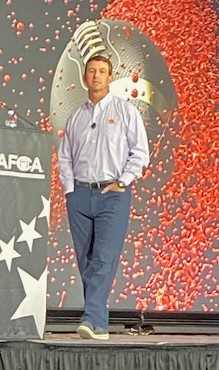 We just returned from the American Football Coaches Convention in Charlotte, NC where Bonnie and I had a great time as usual seeing a lot of our good friends in the industry. Opening evening started off with a bang as we got to see and hear our friend Dabo Swinney HC (Pictured above) of the Clemson Tigers. We both know his story very well, but no one can tell it like Dabo does and he did it with perfection in the Grand Ball Room to about 4,000 coaches.
I still always enjoy the part when he tells after being named the Head Coach at Clemson, ESPN was rating the hires around the country at all colleges that year and they gave Dabo a grade of D-. I wonder who all the other guys were that got higher grades? I doubt if anyone has achieved more than Dabo nor done it with more class and dignity while being one of the winningest coaches in the Nation. Always building on the foundation of Faith, Family, and Football.
We were able to spend a little time with Dino Babers HC of Syracuse, and one of my all-time favorite guys at the FCA Breakfast the next morning which was attended by about 300+ coaches. That included the main speaker Jamie Chadwell the new HC at Liberty, who I was able to meet and spend some time getting to know. It is always awesome when I get to spend some time with my good friend Shawn Watson who closed in prayer and is now the new HC at Wofford U. Shawn is a very talented offensive mind in our game and will do a great job as a HC after being one of the top offensive coordinators in the country.
I enjoyed hearing and seeing Brad Salem the WR coach at Memphis as he discussed the attributes of using Catapult at one of the hourly sessions and is a superb teacher of QBS and offensive football. Brad was formerly at Michigan State with Mark D'Antonio.
Sometimes you must drive 400 miles to see some of your friends who live very close to you and sure enough there was Jack Hatem (Pictured Below), and his lovely wife, the HC of Dennison U. in Granville Ohio, which is located all of 30 minutes from where we live.
Bonnie and I always have a wonderful time traveling and finding good new restaurants, and that was the case in Charlotte as well, which made for a great week. God is good and the convention was excellent as usual and it was fun for us just being with some more coaches of our great sport, football. Coach Sink