The last 2 days of work outs have been spectacular with talent not seen on the same field very often for a spring session.  Let's just start with the QB position first.
Griffin Dahn from The University of Nevada was home for spring break so attended both yesterday and today's sessions, throwing the ball like a true NFL QB that he will soon be.
Then we had visiting for both sessions, the former Ohio State and  soon to be  QB at LSU,  Joey Burrow, and man, are those Tigers lucky to have this man coming to be the leader of that team. Look out Nick Saban! The way Joey was throwing proves he is also bound for the NFL very soon .  It was quite a shoot out.
  Also in attendance was Isaiah Healy on his way to QB Ohio Dominican, and I believe put them on a winning track like they have never seen before, and my outstanding Freshman QB Judah Holtzclaw on his home field for today's workout, Westerville Central HS.
Yesterday at Hilliard Bradley but not pictured was Josh Stewart on his way to be the QB at West Virginia Wesleyan and they have a star on the way to almost heaven.   At times you thought you were watching a field exercise for the US Air Force as the Rockets' Red Glare was sure in attendance.
Those Rockets had to be caught by someone and brother we had a bunch of SOMEONES there to catch.
Yesterday but on his way to Western Illinois to be an H Back and fullback, was another former Ohio State graduate, Jared Drake.
 Also, in attendance for both days was Kentucky All American Special Teams man, Charlie Moushay and joining today's session was the SEC Sophomore of the Year RB Bennie Snell. 
Isaiah Young,  Urbana's awesome Running Back rounded out all the college guys in attendance.
 Now, the balance of the WR's was headed by my talented Newark Catholic 6'3" 197 lbs  coming Senior receiver, Lucas Pierce, who certainly drew the praises of all the college guys and others watching.
I was very proud of the balance of the receivers who took all those rockets in stride as if they were ready for some big time college play in their futures as well.
 They are, out of the Westerville Central 2021 class, Zeke Healy (Isaiah's younger brother and Running Back extraordinaire), Luke Swaney, Devon Farris, and Vince Francescone,  who all hung tough for the entire session and made some spectacular catches, and last but not least, soon to be Freshman in HS, Nate Hannoush, who looked more like the class of 2021 then he did his class of 2023.
After the session I called Head Assistant Coach of the Ohio Bobcats, Jimmy Burrow, to try to tell him what a fine job I thought his son Joey did both days, but I was too late!  Joey had already called and said my arm was getting a little tired but man I had Fun.
Not so tired that he didn't ask for a few more skinny posts into the end zone from the 35 yard line to finish the session.
We ended with everyone repeating after Coach Sink "Know the Truth for the Truth will set you Free", and the Truth is we all had a fabulous 2 days working hard to get better on this marvelous game of Football.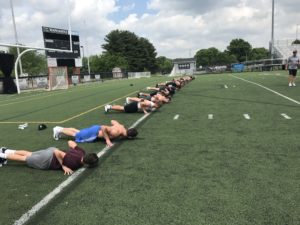 .