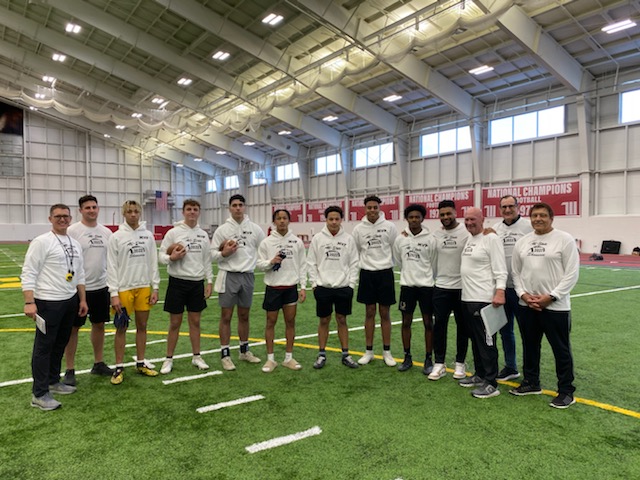 It is not easy to put on a camp of this size and talent but with Great individual help and Great Teamwork comes a Great Results. The guys shown above plus a few that did not make this picture.
Let me start with those first. Brandon McKnight, former NFL player, so he really knew our needs, and his staff from Whittenburg U. were awesome to work with and ready and willing to respond to our every request. Our Staff, of Gretchen Bartola, McKenna Hanoush, Donna Smith, and the 3 Kilzer kids, Savannah, Lilly, and Max, were invaluable doing everything from check in, to score keeping for the 2-minute drill, to taking photos, to setting up and tearing down, thanks for a superb job well done.
Our 3 Ball Boys, set up cones, retrieved balls, took down cones, and retrieved more balls and even got a little throwing and catching in at break time. All 3 are headed for a good career in this great game of ours and that is Leo Smith, Luke Smith, and Blake Bartola, great job Boys.
Thank you, Wild Bill Productions, for the incredible video work in capturing some of these top players and their performances and for the live stream of the entire camp of which many D1 recruiting directors and coaches watched.
To Cary Allian and his other 2 MAC conference Officials who did an excellent job of keeping control of our one on ones and our 2 Minute drill, so as to make the camp a professional experience for all the players. Thanks, you 3 for doing a perfect job of officiating the whole day, and I bet that is the first time you heard that.!
Now to the guys in the Photo, Coach Paul Kilzer on the far left is the guy who put all the technical programing behind this and helped me with all the contacts of the great HS coaches who recommended top players for our camp and kept the entire camp "right on time" all day. Thanks man we could have never done it without you.
The balance of the photo members next to Paul is WR Coach Zack D'Orazio, DB MVP Aaron Scott, QB MVP Bryce Shondelmyer, QB MVP Tristan Aboud, Camp MVP Anthony Davis, WR MVP Jacob Harris, WR MVP Preston Bowman, DB MVP Jeremiah Lowe, WR Coach Zack Yousey, Coach Sink, FCA Ohio Director Rye D'Orazio, DB Coach John Majistro, and absent from Photo DB Coach Scott Dunkenberger. Star Coaching, Star Athletes, Star workers, Star Fellowship of Christian Athletes Speaker, and a Star Assistant Athletic Director, Star Videographer, 3 Star Officials, and 3 Star Ball Boys and you have a whale of a Showcase. Thanks to all for making the 2022 Coach Sink's All-State QB, WR, DB Camp a phenomenal success. Can't wait to have you that were invited and missed it to our next showcase, because several of the athlete's received offers from D1 colleges within the week of airing our camp.