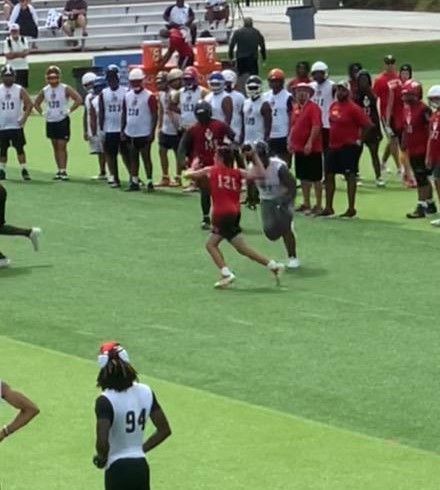 Brayden Bayles my Senior QB from Heath HS, Heath, Ohio put on a tremendous performance last week in Naples ,Fla. at the prestigious TOP GUN QB Camp. He not only had his rocket throwing arm going but also his 4.5 40 speed in getting away from the chasers, and landing him the number one time in the Pro Shuttle in the US for QBS. Brayden barley missed the top ten in the USA list but certainly made his mark as one of the best QBS in the country.
You can see Bayles in photo above escaping with ease from one of the bigs who is making the pocket collapse on him and throw an accurate on time throw by running at his target. He has done all of this his whole career at Heath HS and that is why he is the All-Time leading passer in the history of the school.
Head Coach Tim Ward should be able to cut him loose this year and put up some amazing stats while wining games for the Bulldogs. Brayden has multi offers and is waiting for that premier one where he can succeed. If you havent seen him yet you should put Heath on your Friday night calendar this fall.
So proud of this young man Brayden Bayles.
pictured below taking a snap at TOP GUN.