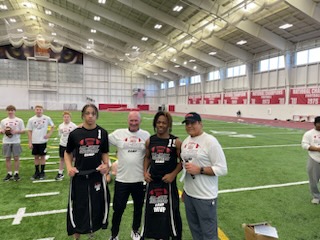 It is getting harder each year to narrow the field for our position MVPS and we already give out 2. Coach John Majistro and Coach Dunk struggled, due to the excellent group of players, this year in their selections for the best of the showcase but certainly arrived at 2 great ones. The entire time of the "one on ones" and the 2-minute drill was intensely competitive and a real show to watch as the receivers gave all they had, and the defensive backs did not back down for one second.
I have had a chance to watch the entire camp and some big plays were certainly made by Coach Bill Peeples, Indianapolis Cathedral HS junior Aiden Chase as well as the 2 that were selected by the coaches. I better be careful here because the list of outstanding DB plays keeps growing as you watch it.
The 2 MVPS were certainly deserving of the awards. Number 15 Tai Crump from Worthington Kilbourne HS in Worthington, Ohio was one of the 2 super stars of the Showcase and the other was no stranger to be placed first as he was one of our MVPS last year as a Junior. That is Aaron Scott from the Reserve State Champs in the State of Ohio's largest division D1 and is coached by one of the great HS coaches in the country, Maurice Douglas, who is also a former NFL standout with the Chicago Bears.
It was a great year for the Black Shirts at the Coach Sink All State QB Showcase, and I don't know about you but I can't wait till next year. Photo'd above is #1 Aaron Scott, and #15 Tai Crump with Coach Sink and coach John Majistro.