My Partner Shemy Schembechler and his Father-in-Law Dr. Gary Racey and I drove to Canton Ohio yesterday so Shemy could be the chosen speaker for the famous Football Hall Of Fame Luncheon.   All kinds of famous X football guys belong to this organization and what a crowd they draw.   Over 350 at this luncheon and about that number attend every week in this famous Football town.  Such guys as Shemy's Dad Bo,  Jim Tressle, Jack Harbaugh (father of Jim and John) and too many more to mention have been, the featured speakers here. In a couple of weeks it will be Ohio State's mentor Coach Urban Meyer.
Shemy spoke for about 20 minutes and told his story and a lot of Bo's, as well, then went straight unto the question and answer segment which all the guys loved and it was hard to get them to stop at the end.   Shemy took the questions and fired back answers until he rocked the place !!!.   There were Questions about former Michigan Players, some about the rivalry between Bo and Woody and their love hate relationship, others about the Cleveland Browns, and of course some about the recruiting of players between Woody and Bo.  Shemy was in his element and answered all with professional answers that could be printed anywhere, but also with all lot of humor.    I spent quite a bit of time with the former President of the Luncheon Ohio Hall of Fame coach J D Graham, who won 7 State Championships at Newark Catholic HS, in Newark Ohio and where I now have an outstanding Sophomore QB Matt Carlisle and a talented group of receivers that include one of my senior stars, Lucas Pierce.
The President and board members could not have been more cordial, treating us with a private parking space at the front door, and all three of us where at the speakers table with a few other dignitaries. Then, directly afterwards, we were invited to attend the Hall of Fame at no charge and we had an absolutely spectacular time reminiscing and going over all the players, coaches and owners Shemy knew, had recruited, had scouted, and had worked for.  My list was much shorter, but included players I knew, had met, and played with or against.   Dr. Racey was with us every step and had a few stories of guys he admired as well.
It was a great Day and a nice break from what Shemy and I (Coach Sink) do every day and that is, work QBS, WRS, watch film of 100's of kids, and get them recruited all around the country.  So proud of all of our guys and what they are doing on rosters all the way from D1 to D3 schools but almost all getting there college paid for by playing college Football.  Pictured above is Shemy and Sink at the Hall of Fame in front of Lambeau Field in Green Bay Wisconsin.  Pictured below is Shemy in front of the locker of one of the guys he helped recruit to Michigan, Dan Dieredorf and Sink in front of the locker of one of the great QBS of all time, Joe Montana.
Proud to have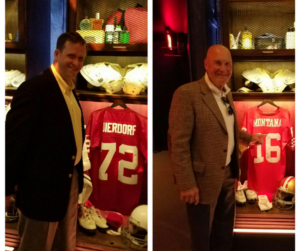 Shemy Schembechler and GES Advisory as my partner and buddy it this wonderful world of football.