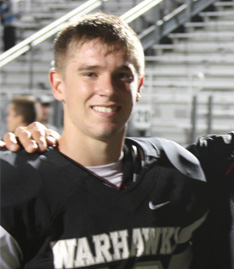 Gavin Lyon is not so quietly leading Westerville Central to the # 4 team in the State of Ohio in Division 1 and the #1 Team in the central Ohio region.
He threw for 217 yards, was 18 of 23 (78%) Friday against Olentangy Orange and 3 TDs and led Central to it's third victory 33 to 10.   Gavin is now 44 of 75 and 493 yards in 3 games.  He has an awesome delivery of the football and is accurate enough to paint the dime on the goal post if needed. Now if that isn't enough, Gavin runs the ball at the speed of most elite WRs with a 4.3 40 time.    He is the ultimate calm, collected, Field General that his hall of fame coach John Majestro loves about him.  An outstanding student and the spiritual leader of the Warhawks makes Gavin a terrific prospect to further his football talents to the next level if he chooses.
Very proud of our 4th year student Gavin Lyon, and look forward to watching him lead the Warhawks as one of the elite programs in all of Ohio.
Below are videos from the first 2 games:
Gavin Lyon Practice Video: