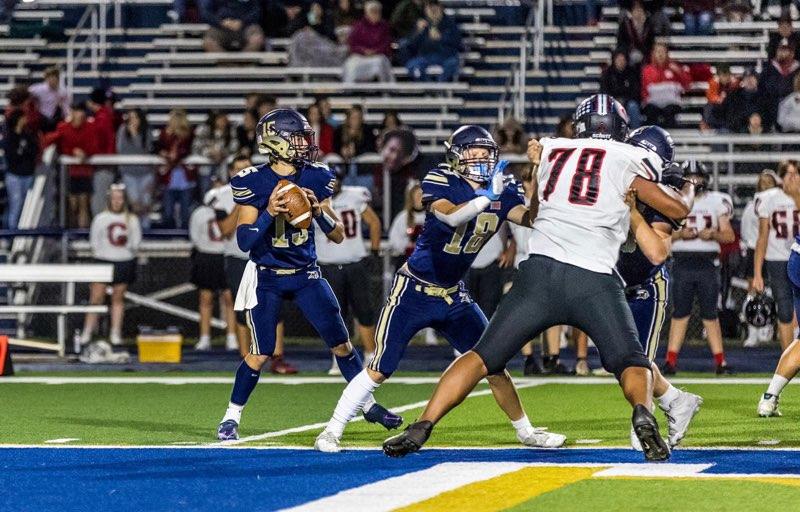 It is not normal that I post an article when a player or team losses, however, the effort and performance by my Freshman at Teas Valley HS in Amanda, Ohio last Friday night is certainly worth the mention. After going through his first season as a varsity player and having to beat out a very good Senior QB in order to start for head coach Mark Weber's Vikings, Kaden Hines, my 6'1″ Freshman gun slinger has been more than up to the task.
The reason this article is appearing is the level of competition Friday was as good as it gets in D2 football in Ohio as Teas Valley took on Bloom Carrol HS who was 5-0 in conference play and 7-1 overall for the year. Bloom Carrol is a team that rarely beats themself, you have to beat them with a top effort and just about flawless play. That was the recipe that the Vikings played with and Kaden Hines delivered falling only short at the very close of the game. Kaden put up 274 yards in the air with 2 TDS and 19 more on the ground and 2 more TDS. Losing 35 to 27 and all 27 points Hines had a hand in either rushing or throwing. He was 20 of 36 att. in the air and 5 carries for 19 yards on the ground.
His receiving core needs to be mentioned as well, as 2 Freshman, both big time receivers were key as well as Sr. Gavin Sparks, who had 3 receptions for 94 yards and Jr. Harrison Payne had 4 receptions for 59 yards and a TD. Freshman standout Trent Wolpert had 5 catches for 62 yards and Freshman Cole Nungester who is also going to be a star receiver as well, had 8 catches and for 59 yards and a TD.
Teas Valley future under the direction of head coach Mark Weber looks more than bright as these and other young talented football players are the foundation for many big wins in the next few years. Go get 'em Vikings.