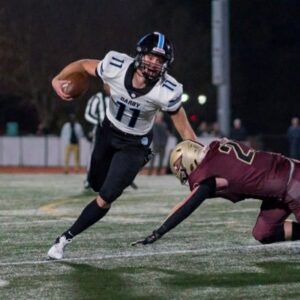 Blake Horvath my 6'1" 190 lbs. quick and gifted QB has just received an offer from the United States Naval Academy to play QB for the Mid-shipment.   If I do say so myself, Navy got this one right.  He can go there and take his incredible talent to get first downs on the ground or through the air no matter what the distance is to cover. Blake is such a gifted athlete and takes a perfect talent to a perfect spot to succeed at the college level and what an education to go along with it.
I know one thing, if I were in a fox whole or on a ship or in the air and needed protection this is one of the guys I would want right next to me.  Blake Horvath is a winner with great integrity to go along with his mental toughness.
Blake, and his family will be going for an official visit over the weekend of the 29th of January.    I will keep you posted on his commit.