It has already been a Big week for the men under Coach Sink's coaching.   Senior QB at Hilliard Bradley in Hilliard Ohio Josh Stewart started the ball rolling with a visit to the Miami of Ohio last week and had an awesome night throwing the ball and turned around on Saturday and went to  Norte Dame of Ohio and threw for several D1 , D2 and D3 Colleges.  We are looking for offers to roll in on Josh soon.
See the picture above at U of Pittsburgh, from left to right Reynoldsburg HS Junior, class of 2019, WR Mershawn Rice had an incredible day and came home with a full ride offer from thePanthers. Next in line, the athletic Lucas Pierce, WR from Newark Catholic, Newark Ohio, attended his first College camp as a WR and did a remarkable job beating the top D-backs in the camp. Coach Sink, then outstanding Junior QB Mark Waid from Girard HS in Girard Ohio, who was attending his first camp of the season and did an awesome job and completed several passes to all three wide receivers and TDs to each. He finished the day with the last throw, a 55 yard fade in the corner of the end zone to Mershawn Rice to end the camp on a high note.  Ashton Gilkey is on the far right and was equally productive and is the WR from Westerville Central, Westerville Ohio, who tore up the Rivals camp a few weeks ago.   Ashton continually beat defensive backs all day with D1 offers and he is sure to get many more D1 offers than just the one he currently has from Morehead State.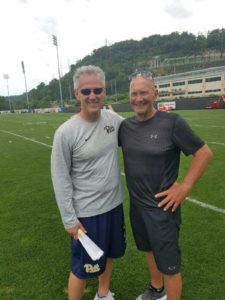 Pictured to the left is one of Coach Sink's buddies in the business, Shawn Watson the OC at Pitt.
Isaiah Healy, Westerville Central's excellent Senior QB started his camp season yesterday with not such a good experience at Wayne State U in Detroit where they had 600 plus campers and a staff to accommodate maybe 300.    It was chaos for the entire camp and the kids were all saying they would not come back to this camp again. Isaiah must have been impressive as the reports that came back from his performance were very good, after only throwing 5 balls during the one on ones in the entire camp.   Not to worry as Isaiah (MVP of Best of the Midwest Camp) will be recognized soon in his upcoming camps.
It is interesting to watch as the cream rises to the top quickly in the next few weeks.