In Ohio, the football capitol of the US, the North South All Star game is a real deal and very prestigious for each player who is invited.
Even more important is who wins.   Well, my reporters were at the Friday night banquet and all the talk was about how the North team had all the "STARS".
I must admit they were loaded with 3 and 4 and 5 star athletes according to Rivals and the comments were "the North is going to win big", "this is going to be the most lopsided victory in history by the North", "the North is going to win by 100 points tomorrow".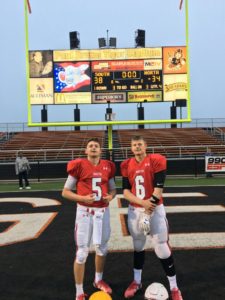 Problem is, no one told Nate Barko QB Reynoldsburg, Ohio and Kaleb Jarrett QB Newark Ohio they couldn't beat the Star power.  Both guys are long time Sink coached boys. These 2 put up 266 yards of passing going 14 of 23 and managed the game perfectly to bring the victory home to the South, 38 to 34.  Both guys had TD passes at crucial times in the game.  Franklin Hts. Brendon Knox ran for 3 TDs and 166 yards of rushing.
My reporter said the center should also be mentioned from Huber Hts. Wayne HS as he was an incredible force in the middle and none of the Star studded North defenders could handle.   I am sorry but I do not have his name.
Kaleb Jarrett is headed to Walsh University to be there QB this coming year and Nate Barko is headed to Grand Valley State in Michigan to play QB this fall for them.   I am so proud of these 2 guys who have stayed steady in this long journey of success as Quarterbacks and played superbly for their High Schools and now will do the same for these fine schools.   Keep on the journey guys there is more success to come for both of you.   Coach Sink