Hilliard Bradley's QB and leader of the Panthers for head coach Mike Loparo is awarded yet another top honor by being named
FIRST TEAM ALL-STATE QB and OFFENSIVE PLAYER OF THE YEAR IN OHIO.  Will Phillis did this in the largest division of schools, D1, in the State.
He also lead the Panthers in Victories over undefeated Hilliard Davidson a 2 time State Championship Program and undefeated Dublin Jerome and arch rival Hilliard Darby. This had never been done previously at this school. The win over Davidson was particularly sweet as Bradley had never beaten them before and the game was tied with 3:20 left in the game.
Will gathered his team around him, calmly looked them in the eyes and said, "OK boys, is everybody ready to go do this?, Let's Go".   They trotted out on the field and he took them down the field including going 5 for 6 passing the ball, took a timeout with 3 seconds left, they kicked the field goal and won it 31 to 28.  During the balance of the game he threw 4 TD passes totaling the other 28 points. This kind of leadership that he commands is what we call the "IT" factor that only a very few athletes have.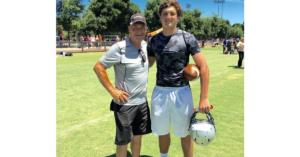 This week he was voted into the Super 25 players in Central Ohio and the finalist in the top 5 for Captain,  which this list includes multi NFL Players that have proceeded him.   Not surprising with this young man's talent as we expect to see him in the League in a few years.  At  6'4" and 225 lbs. he has the God given size and body to do so and with the right spot and  the right opportunity we are sure he will prove it to the world.
On a daily basis he is being visited at Bradley by major D1 programs and head coaches from around the country.  We are anxious to see him do the same thing in College that he has done for the Bradley Panthers and Mike Loparo's program by bringing the "IT" factor to his next TEAM.
I am blessed to be his Private QB Coach since coming out of the 8th grade!!!   Coach Sink
Check out Will's Senior Highlights below..