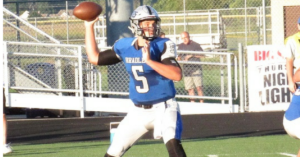 Will was just named to the Division I All Central District First Team QB and the incredible award for the number one Offensive Player of the year.
He was also named OCC Player of the Year just last week. Ending the year with 2508 yards passing and 27 TDs with only 4 INTs and completing 205 of 315 attempts for a 65% completion average puts him among the very top in the State .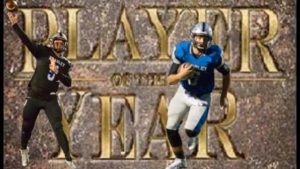 Will certainly deserves all of this and more for the adversity that he has overcome since he was a Freshman. But he knows (as do all the sink kids) Adversity Breeds Greatness. He lost his beautiful and beloved Mom Jill when he was a Freshman to cancer. After his sophomore year it was imperative that he move to Hilliard, so his Dad and sisters could get family support in order to maintain life's schedule with only one parent.
He joined Mike Loparo's Bradley Jaguars and changed the face of their football program for ever, even after playing his last 4 games of his Junior year on a broken foot, (by the way winning all 4 of those). Then having surgery and rehab time during the most important period of his recruiting, but yet got himself ready to play this year.
Congratulations to Will and his 9 and 2 Bradley Jaguars for being rated in the top 7 teams in the State and beating arch Rivals  undefeated Davidson, Darby, and undefeated Dublin Jerome for the first time in school history.  His future is bright and with his perseverance, do not be surprised if you watch him play on TV some Sunday.
Congrats to other first team selection from Sink's Boys:  Junior Daevon Anderson WR Hilliard Bradley , Junior Bryce Houston Olentangy Orange.
2nd team: Robbie Hyrmer, Hilliard Bradly, D'ante Woods Newark HS, Brendan Bordner Hilliard Bradley, Savion Pulley Reynoldsburg, Colin Robertson Westerville Central.
Special Mention: 2 more of my outstanding QB's Nate Barko Reynoldsburg, and Kaleb Jarrett Newark who both had outstanding years. Jay Jay Cooper Reynoldsburg and Allen SmithWesterville Central.
Honorable Mention: Jordan Hay WR Reynoldsburg, Emerson Milner TE Olentangy Orange, andMershawn Rice WR Reynoldsburg
Division II: First team Carson Van Lynn and Jack Trombetti both of Worthington Kilbourne
Honorable mention : Griffin Grosh Worthington Kilbourne
Division IV: Congratulations go to Ethan Breckbill, Newark Licking Valley for being first Team WR, and all that hard work and travel this summer sure paid off for Ethan.
Second Team: Gunner Carpenter WR Newark Licking Valley
Special Mention: Another of my fine young QBs Jake Lewis, Junior at Newark Licking Valley
Honorable Mention: Austin Collins Newark Licking Valley
Division VI : Big Time congratulations go to James Lachey of Granview for being named first team Defense and the Defensive Player of the Year.  Even though James spent this summer working on his TE skills he also improved his quickness and his foot work and it all paid off.  Way to go James.
Second Team: Very proud of another of my QBs, Joey Landusky Granview.  I Just wished I had gotten him before his senior year but what a hard working fine young man.   Also Cam LewisNewark Catholic, congrats.
Special Mention:  All three from Coach Bill Franks Newark Catholic, Tanner Lake, Sam Wendt, and Riley Whitaker
Mark Waid  Northeast Region: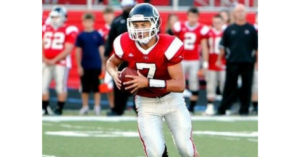 What a year this young Sophomore QB had for his Girard Indians. Mark 6'3" 205 lbs. is one of the most intense hard working young men I have ever had the privilege of coaching. Ending the year with 2624 yards of passing, 23 TDs passing and ran for 770 yards and 16 more TDs and only 6 INTs,  First in the State of Ohio in Division 3 in ALL categories and he will be right there with his big Senior stable mate Will Phillis in all Divisions in the State.  Another amazing young man that I get to hang out with.  I am so blessed as you can see from these reports. Mark is already receiving letters from Major D1 programs including Michigan and Ohio State but his Coach Sink and Mom Amy and Dad Mark will keep him humble and his drive to be great will keep him working hard so I cannot wait to see the outcome of his athletic career.
Congratulations, Mark for just being named First Team QB and The Player of the Year in his conference. The number one QB in his North East Region; Mark Waid. MY MAN.
Related Posts:
11 Questions to Ask Yourself Before Hiring a Private Quarterback or Wide Receiver Coach.
Will Phillis -What a Talent! Bradley Beats Undefeated Dublin Jerome
Quarterback Mark Waid Leads Girard High School Over Newton Falls 48-24