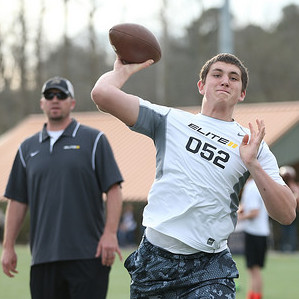 Will Phillis (6'4″ 210 lbs) QB of Olentangy Orange HS, near Columbus, Ohio was one of the very few Freshman ever to be invited to an ESPN Elite 11 camp. (Thanks Zeb Schroeder, Will's new HS coach for getting the email and films out to get Will into the camp). It is difficult for even some of the top Juniors and Seniors in the country to get invited and we are proud to have Will be our 6th invitee to this prestigious camp in the last 3 years.
Our week end started out early Thursday morning as Will Phillis Jr. picked me up and dropped Will the 3rd and I off at the Airport and we were on our way to Atlanta, where Will's Uncle Tim picked us up and delivered us to his beautiful home about 15 miles from where the ESPN Elite camp was to be held. We got there just in time to start the ruination of both "Coach Sink's" and Will's NCAA bracket with Ohio State loosing to Dayton. Oouuch!!
We spent the rest of the evening, enjoying great food (prepared by our terrific hostess and team photographer extraordinaire, Aunt Tami), and watching great basketball while flipping 4 channels to see each game. Thanks to Aunt Tami for her photos used on this site of Will at the camp.