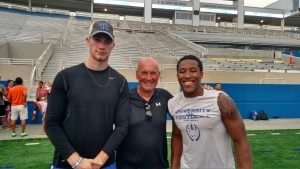 Dakota Holtzclaw WR is up to 20 D1 offers, and Bennie Snell one of the top RBs in the nation have both committed to play for Coach Mark Stoops and the Wildcats of Kentucky. Attached are photos of Dakota, coach Sink and Bennie at the Friday night Lights event for the U of Kentucky. In addition you will also see Dakota in his Kentucky Uniform during his photo shoot at the event.
Bennie who is always trying to improve has worked with Coach Sink for several years to develop his receiving skills to be a complete pro back. He is a fierce competitor and we are looking for things from Bennie in the near future.
Coach had a great time making the trip to Lexington with Dakota and his outstanding parents and has enjoyed his time coaching Dakota as he is a hard working young talented WR with a great work ethic. We are looking BIG things from Dakota as well in the near future.