Dakota Holtzclaw Stats: 6'7″ 220# 4.5/40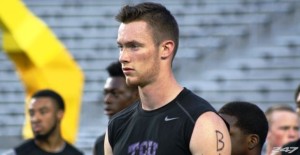 Photo by: Jeremey Clark, 247 sports
One of our outstanding young prospects at the wide receiver position, Dakota Holtzclaw from Worthington Kilbourne HS in Worthington, Ohio has received multiple D1 offers. This 6'7″ 220 lbs. athletic and dominating wide out has demanded double coverage most of his Junior year but has risen to the task and is looking forward to a spring and summer with Coach Sink to become even a more skilled and aggressive force on the outside for this very talented and well coached central Ohio high school. Big dreams and lots of hard work make for wonderful endings and I believe Dakota's high school career is just beginning. Dakota has made a verbal commitment to Kentucky. Along with that, the attention he is receiving is a pretty impressive group with Ohio State , Michigan State, Michigan, Bowling Green, Georgia, Toledo, Northwestern, and Baylor all showing more than casual interests at this point. He has, in addition to his WR skills, a bonus for all the interested programs, as he has also performed well at the DE position and is an excellent D1 punting prospect. The most exciting part of Dakota is that he has his priorities in order and is building his whole life concept with taking care of his Physical, Mental and Spiritual side.
Recent Articles About Dakota Holtzclaw:
Bill Greene of Scout.com recently wrote an article about Dakota:
Breakdown: Kentucky Commit Dakota Holtzclaw
WHAT IS THERE TO LIKE? Right off the bat, Holtzclaw is intriguing because of his 6-foot-7, 215-pounds, frame. He also appears to have above average speed and athletic ability. He has the ability to run by people, or go up and over defensive backs to get the football at its highest point. He should eventually be a first-down machine, and of course an excellent red zone target.
---
Picking Kentucky was an easy choice for Ohio receiver Dakota Holtzclaw
Related Links:
Yahoo Sports Stats on Dakota Holtzclaw
---