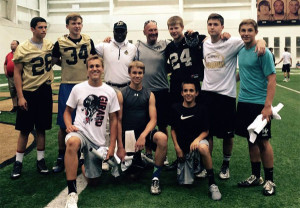 June 7th found 7 of Coach Sink's top QB's for the next season attending Purdue University and their Elite QB Camp. Head Coach Darrel Hazel and his staff were great hosts and all the boys had an awesome time and performed very well.
Photo shows; top row left to right, Jake Lewis Sophomore Licking Valley HS, Newark Ohio, Sam Biglin Sophomore Worthington Kilbourne HS, Worthington Ohio, Darrel Hazel HC Purdue University, "Coach Sink", Kaleb Jarret Junior, Newark HS, Newark Ohio, Nate Barko, Junior Reynoldsburg HS, Reynoldsburg Ohio, and Jaxon Gregory Sophomore Mt Vernon HS, Mt Vernon, Ohio. The front row left to right; Mark Waid Freshman Girard HS, Girard, Ohio, Lucas Pierce Freshman Newark Catholic HS, Newark Ohio, and Nate Hannoush 6th grade, Westerville Central district, Westerville, Ohio.
Due to the fact that one more of Coach Sink's boys was already committed to attend the University of Virginia QB Camp on the same day, Will Phillis III Junior QB Hilliard Bradley HS, Hilliard Ohio was not able to attend on that day, therefore is not in the picture. However Will, one of the top drop back passer prospects in the US, did attend a Purdue camp the following Wednesday. The Boilermakers were very impressed with this great group of young talent and Coach Sink was proud of the way they conducted themselves. What a fun way to start off the camp season.